Ah! Salaam and good morning/afternoon/evening/night to you, worthy friends! Please, please, come closer!
Now that you know what kind of sass and terrible humor you're in for, we can get started. As my gracious host and your beloved Linc'ing writer Joe Sorbera has already mentioned, my name is Joe Hogan and I'll be your tour guide through the wonderful world of gaming news for the next few days. I have zero qualifications for video game journalism, but beggars can't be choosers! Regardless, here at The Missing Linc, we'll be providing you with all the biggest gaming news to come straight out of Los Angeles' annual gaming expo, E3, and it all begins today. Fanboys will rejoice and rage, franchises will rise and fall, and Reggie Fils-Aime will bless the internet with the gift of meme ammunition.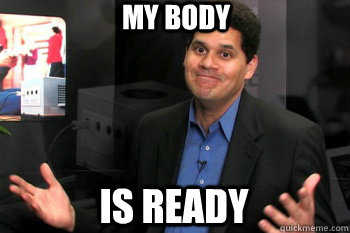 Day 1 is always the most hectic, so expect the bulk of the info to be dropped right here today. Microsoft, Sony, EA, and Ubisoft will all be holding their huge press conferences today, with TONS of reveals and announcements. Tomorrow, Nintendo will be joining the fray with their slew of game reveals as well. Not to mention, publishers and developers will be dropping news like nobody's business throughout the convention, so be sure to keep it locked here! Our first order of business will be covering Microsoft's 9:30 AM PDT conference, so you can be sure to read a slew of info immediately afterwards! Can they redeem the already-tarnished view most of the gaming world has of the Xbox One!? Check back soon and we'll find out together! And just for anyone having trouble keeping track, here's a nifty timetable of the conferences:
In the meantime, feast your eyes on some of these awesome early morning photos of the convention center, courtesy of
redbootz
on Reddit! You can see the entire photo collection
here
.