Oh, boy. Here we go, folks! Joe Hogan here, back with some new E3 coverage for you on The Missing Linc. Nintendo has been doing their own thing for years, and declining to host a press conference on the main stage in the first time in E3 existence is no exception. While all the main players are going about their usual press conferences, Nintendo will be broadcasting their biggest news via their popular Nintendo Directs, a series of announcement videos broadcasted throughout the year, in all corners of the world. So, strange decisions aside, where did they leave us Nintendo faithful fans with? The games touched on today during the
E3 Nintendo Direct
:
3DS:
Pokemon X/Y
Batman: Arkham Origins
Scribblenauts Unmasked
Shin Megami Tensei IV
Skylanders SWAP Force
Sonic: Lost World
Wii U:
Wii Party U
Wii Fit U (Delay notice)
Art Academy
AC Black Flag
Batman Arkham Origins
Deus Ex: Human Revolution Director's Cut
Disney Infinity
Just Dance 2014
Rayman Legends
Scribblenauts Unmasked
Disney Planes
Skylanders SWAP Force
Tom Clancy's Splinter Cell: Blacklist
Sonic Lost World
Watch Dogs
The Wonderful 101 (August 23rd)
Bayonetta 2
Monolith's mystery game
Nintendo eShop
:
Ballpoint Universe
Cloudberry Kingdom
Coaster Crazy Deluxe
Ducktales Remastered
Dungeons and Dragons
Mutant Mudds Deluxe
Oddworld: New 'n Tasty
Scam Kitty and His Buddy on Rails
Shovel Knight
Spin the bottle Bumpie's Party
A World of Keflings
First of all, I think the Nintendo Direct was a smart choice on paper, but did have quite a few hiccups. There were some streaming issues but jumping to a different stream was an easy fix. Nintendo knew they couldn't compete with Sony and Microsoft for attention, especially with both releasing new consoles this year. All eyes are on those two, while Nintendo kicks back and just showed off the games the 1st party fans have been clamoring over. And while the ship that is the Xbox One begins to collapse in on itself like a dying star, I bet the Wii U is suddenly looking a lot more appealing to some folks. While Sony clearly has the graphical superiority over Wii U, the Wii U still has no used game fee, does not need to be connected to the internet to play games, does not need to register software to the console before playing, and, unlike Playstation 4, has backwards compatibility.
All aboard the Nintendo Hype Train! Next stop: YOUR WALLET!
Nintendo knows what their fans want on Wii U. Today's lineup is clearly proof of that! Zelda, Mario, Donkey Kong, Smash Bros., and more. I mean, just look at the list. The twin releases of the Smash Bros series, one on 3DS and the other on Wii U, look absolutely stellar. I can't wait to get my hands on both and to see how they interact with one another. Mario Kart 8's gravity-defying courses are another reason to return to your colorful go-karts as well! The Wind Waker HD also looks GORGEOUS.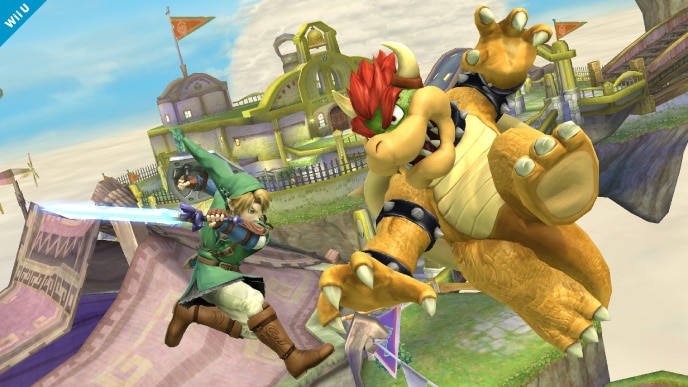 I'm a bit concerned that the new Mario, Super Mario 3D World, might be a little too safe of a gamble in terms of a new 3D Mario. It doesn't seem to be pushing any bounds like Mario 64 or Mario Galaxy dared to do. Even Super Mario Sunshine took a big risk with the entire water mechanic, but this game really just looks like a Wii U version of Super Mario 3D Land with one new power-up. A bit of a disappointment!
The Nintendo 3DS also surprisingly had a strong showing. The next installment in the handheld Zelda series has been given a name -- The Legend of Zelda: A Link Between Two Worlds. A little long but it works!
Come on, we all wanted a full 3D Wii U Pokemon. This guy most of all.
Today proved the first party titles are coming, even if there weren't a few that I personally have been hoping for. Long have I prayed for Majora's Mask 3D, but was given Wind Waker HD. While I'm still excited to relive that game in glorious HD, I can't help but feel like that wasn't the game people were asking for. Just look at Operation Moonfall. But at the same time, we're getting three Zelda games soon, so that is pretty badass. I also feel like the Wii U's potential for a full Pokemon game is not yet realized either. That tablet controller is begging to battle Pokemon in HD. And Joe Sorbera would've liked a Star Fox installment! COME ON, BIG N.
What else is in store for today? I'm going to be making some rounds to cover any games not mentioned in the big press conferences, and bring you all the new news that might've fallen between the cracks, as well as a thorough look at the PS4/Xbox One battle! Check back soon!